Valentine's Day is only a few days away! You might be thinking of celebrating heart's day with your significant other, your family, or even just yourself (and hey, that's okay!). We know how stressful it can be to find something that's both thoughtful and useful, that's why we have listed some local businesses here in Salt Lake that have awesome options for you! There are some classic gifts as well as unique ones. Excited to find some cool stuff to give out on February 14th? Read ahead!
Cactus and Tropicals
Kicking off our list with a plant store and service that has been in Utah since 1975, Cactus and Tropicals. Flowers are the usual gift for Valentine's, but you can make the day even more special by giving long-lasting potted plants instead. Customers love this place because of their wide selection of beautiful and healthy plants.
You can even drop by for a quick shopping date in their winding paths of well-loved palms, cactus gardens, and hundreds of orchids. Their place also transforms into a wedding venue at night so it might be worth checking out. Who knows, this might be where you tie the knot (when big weddings are allowed again).
Our Top Pick(s): Santa Cruz | Elise
Hip & Humble
If you want to give out locally produced and ethically made goods, check out Hip & Humble. They offer products with sustainable ingredients made by homegrown makers to ensure the uniqueness and quality of their products. Here, they value customer experience which makes their products perfect for gifting!
Customers say they can spend hours just browsing the wide assortment of goods. From season-appropriate products, artistic greeting cards, and stylish clothes, there's so much to see here! They even wrap your purchases for you in a creative way. If you typically find it difficult to shop for presents, they've got you covered!
If you're looking for a gift for her, Hip & Humble is the place to be. They aim to empower women with their products. You're assured that you are coming out of their store with a unique, thoughtful gift that she would absolutely love. Click here to find out about their COVID-19 shopping guidelines.
Our Top Pick(s): Keeping it Simple Cookbook | Paddywax Mini Fragrance Diffuser
The Petal Coop
Next up on our list is a flower arrangement business that's sure to impress, The Petal Coop. Customers are constantly amazed by their unique arrangements and impeccable customer service. This is thanks to their owner, Natalie, who founded this endeavor after being in the events and hospitality industry for years. Trust us when we say she knows how to take care of patrons because people keep coming back!
What's unique about this business is their dedication to making locally grown blooms accessible to everyone. That's why they have both a mobile flower truck and a permanent flower bar for all customers. Whether you want to select single-stem flowers yourself or have them delivered, they have equally great options for you.
Here, they believe that petals could make someone truly happy. Make your special someone smile with The Petal Coop's beautiful flowers.
Our Top Pick(s): Valentine's Day Double Wrapped Bouquet
The Land of Salt
Another proud Salt Lake City business is The Land of Salt. They offer accessories inspired by the beauty of the surrounding mountains, salt flats, and alien red rock landscapes. Their name is an ode to everything this wonderful city has to offer.
Their owner, Erica Hoggan, is a self-taught silversmith who always finds ways to incorporate the wonders of the city through constant rediscovery. She makes it a point to learn new skills so you're assured that you are giving out a unique piece of jewelry that's not only locally made but also a proud representation of Salt Lake City.
Our Top Pick(s): Daphne Black CZ Gemstone Choker Necklace in Gold | White Ceramic Match Striker Cone
Native Flower Company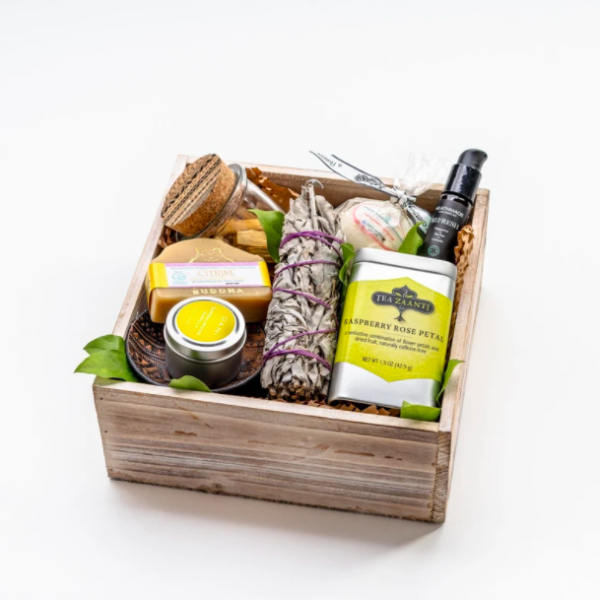 Ending our list with a business that showcases the natural beauty of the city, Native Flower Company. They offer the finest, uniquely-designed arrangements proudly made by their professional florists. No matter the season, they make sure to only use the most beautiful blooms they can find.
They also support Utah-based vendors by buying only locally grown flowers. Plus they're not only about petals, they also offer non-botanical products that are just as great. It's amazing to purchase from businesses that help each other flourish. They take pride in the quality of the items they sell.
This card inspired by the movie Brokeback Mountain that says 'I'll Never Quit You' might interest you. There's even one for Galentine's if you're celebrating the day with the girls.
Our Top Pick(s): Mara Vase | Chocolate Covered Cinnamon Bears
We hope you were able to get some inspiration for your Valentine's gift hunting. No matter what you decide to give, just remember that it's the thought that counts.